The Ten Grounds Sutra (Trilingual)
(Trilingual Chinese-English-Sanskrit Edition)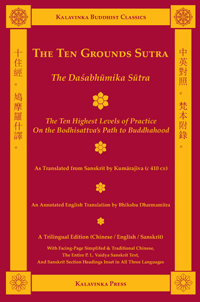 The Ten Grounds Sutra - Trilingual
Trilingual Chinese-English-Sanskrit Edition

The Daśabhūmika Sūtra
"The Ten Grounds Sutra" (Trilingual) is an annotated English Translation by Bhikshu Dharmamitra of Tripitaka Master Kumārajīva's circa 410 ce Sanskrit-to-Chinese translation of the Daśabhūmika Sūtra. This sutra describes in great detail the ten highest levels of bodhisattva practice on the path to buddhahood.
This trilingual edition (English / Chinese / Sanskrit) includes the facing-page simplified (Qianlong Zang) and traditional (Taisho) Chinese texts along with the entire appended P. L. Vaidya Sanskrit text. The Sanskrit section headings are inset in the texts in all three languages to facilitate close comparative study and easy mutual correlation.
This edition of the English translation includes: List of Abbreviations; General Table of Contents; Directory to Chapter Subsections (8 pages, closely outlined); Endnotes (300+); Variant Readings from Other Chinese Editions; and Bibliography.
This special "Trilingual Chinese-English-Sanskrit Edition" includes facing-page simplified (Qianlong Zang) and traditional (Taisho) Chinese scripts. For the "English-Only Edition," Click Here.
690 pages, paper, 6" x 9"
ISBN: 9781935413110
$26.95
Preview the Book via PDF Excerpts: Contents, Introduction / Chapter One
Purchase the book from Amazon.com:
(Click here to go to this book's page on Amazon.com)
Or consider making a small donation and then download the complete comment-enabled pdf ebook:
If you like, make a small donation ($5?, $10?) by clicking this "Donate" button and choosing Paypal's "other amount" option. Then download the complete pdf ebook By Clicking Here.