Nāgārjuna on Mindfulness of the Buddha - Bilingual
(Bilingual Chinese-English Edition)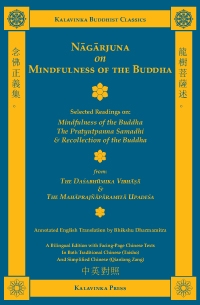 Nāgārjuna on Mindfulness of the Buddha (Bilingual)
Bilingual Chinese-English Edition
Nāgārjuna Explains Three "Mindfulness-of-the-Buddha" Practices
By Ārya Nāgārjuna (ca 2nd c.)
"Nāgārjuna on Mindfulness of the Buddha" consists of three extended passages from Bhikshu Dharmamitra's original annotated translations from Sino-Buddhist Classical Chinese of works written by Ārya Nāgārjuna (circa 150 ce). All three of these passages have been selected from Tripitaka Master Kumārajīva's early Fifth Century Sanskrit-to-Chinese translations of works by Nāgārjuna, as follows:
1) "The Easy Practice" -- Nāgārjuna's Treatise on the Ten Grounds, Chapter 9;
2) "The Pratuyutpanna Samādhi" -- Nāgārjuna's Treatise on the Ten Grounds, Chapters 20-25;
3) "Recollection of the Buddha" -- Nāgārjuna's Exegesis on the Mahāprajnāpāramitā Sūtra, Chapter 1, Part 36-1.
This special "Bilingual Chinese-English Edition" includes facing-page simplified (Qianlong Zang) and traditional (Taisho) Chinese scripts. For the "English-Only Edition," Click Here.
378 pages, paper, 6" x 9"
ISBN: 9781935413158
$19.95
Preview the Book via PDF Excerpts: Contents, Introduction / Part One
Purchase the book from Amazon.com:
(Click here to go this book's page on Amazon.com)
Or consider making a small donation and then download the complete comment-enabled pdf ebook:
If you like, make a small donation ($5?, $10?) by clicking this "Donate" button and choosing Paypal's "other amount" option. Then download the complete pdf ebook By Clicking Here.