Nāgārjuna's Treatise on the Ten Bodhisattva Grounds
(English-Only Edition)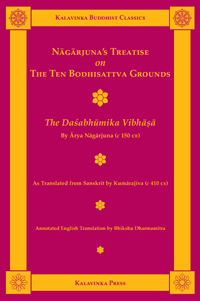 Nāgārjuna's Treatise on the Ten Bodhisattva Grounds
English-Only Edition
The Daśabhūmika Vibhāṣā
By Ārya Nāgārjuna (ca 2nd c.)

"Nāgārjuna's Treatise on the Ten Bodhisattva Grounds" is Bhikshu Dharmamitra's extensively annotated original translation of Ārya Nāgārjuna's "Daśabhūmika Vibhāṣā" rendered from Tripiṭaka Master Kumārajīva's circa 410 ce Sanskrit-to-Chinese translation. It consists of 35 chapters that explain the cultivation of the ten highest levels of bodhisattva practice leading to buddhahood, focusing almost exclusively on the first two of the ten bodhisattva grounds, "the Ground of Joyfulness" and "the Ground of Stainlessness." This is a work which has never been translated into English before.
This edition of the English translation includes: List of Abbreviations; General Table of Contents; Directory to Chapter Subsections (19-page, outlined); Endnotes (600+); Glossary; and Bibliography.
This is the "English-Only" edition. For the "Bilingual Chinese-English Edition," Click Here.
746 pages, paper, 6" x 9"
ISBN: 9781935413165
$28.95
Preview the Book via PDF Excerpts: Contents, Introduction / Chapter One
Purchase the book from Amazon.com:
(Click here to go this book's page on Amazon.com)
Or consider making a little merit by making a small donation & then download the (Free!) comment-enabled pdf ebook:
If you like, make a small donation ($5?, $10?) by clicking this "Donate" button and choosing Paypal's "Other Amount"* option. Then download the (Free!) pdf ebook By Clicking Here.
*Paypal's "Other Amount" option allows you to choose:
a) KDA Support; b) Book-Set Donation Support; or c) Monastic Support.