Letter from a Friend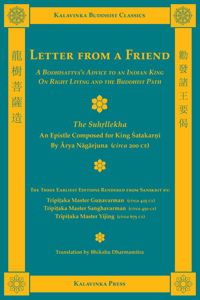 Letter from a Friend
The Three Earliest Editions of Nagarjuna's Suhṛllekha
By Arya Nagarjuna
As translated by Tripitaka Master Gunavarman (ca 425 ce)
As translated by Tripitaka Master Sanghavarman (ca 450 ce)
As translated by Tripitaka Master Yijing (ca 675 ce)
Ārya Nāgārjuna's Letter from a Friend (Suhṛllekha) is a short discourse composed in the form of a royal-advisory letter presented by a spiritual teacher to the king of his country. Although Ārya Nāgārjuna has certainly written many other texts which are more metaphysically abstruse and doctrinally encyclopedic than this Letter from a Friend, this text is in fact one of the most accessible, appropriate, and useful basic Buddhist instruction manuals available to the Western student of Dharma.
English translations and notes by Bhikshu Dharmamitra. Includes facing-page source text in both traditional and simplified scripts.
See the "Book Excerpt" links below for a more complete description of the contents.)
184 pages, paper, 6" x 9"
ISBN: 978-1-935413-06-6
$13.95
Preview the Book via PDF Excerpts: Contents, Outline, Introduction; The First Fifty Stanzas
Purchase the book:
From Amazon.com : (Click here to go to this book's page on Amazon.com.)
From Barnes & Noble.com : (Click here to go to this book's page on Barnes and Noble.com.)
Or consider making a small donation and then download the complete comment-enabled pdf ebook:
If you like, make a small donation ($5?, $10?) by clicking this "Donate" button and choosing Paypal's "other amount" option. Then download the complete pdf ebook By Clicking Here.