Marvelous Stories from the Perfection of Wisdom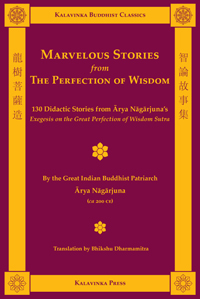 Marvelous Stories from the Perfection of Wisdom
As told by Arya Nagarjuna
This volume consists of 130 stories and short Dharma anecdotes selected from Nagarjuna's immense commentary on The Great Perfection of Wisdom Sutra. Each story is "framed" by the inclusion of Nagarjuna's introductory and summarizing Dharma discussions.
Translation by Bhikshu Dharmamitra. Includes facing-page source text in both traditional and simplified scripts.
(See the "Book Excerpt" links below for a complete description of the contents.)
624 pages, paper, 6" x 9"
ISBN: 978-1-935413-07-3
$22.95
Preview the Book via PDF Excerpts: Contents, Stories Directory, Introduction; Text Excerpt
Purchase the book:
From Amazon.com : (Click here to go to this book's page on Amazon.com.)
From Barnes & Noble.com : (Click here to go to this book's page on Barnes and Noble.com.)
Or consider making a small donation and then download the complete comment-enabled pdf ebook:
If you like, make a small donation ($5?, $10?) by clicking this "Donate" button and choosing Paypal's "other amount" option. Then download the complete pdf ebook By Clicking Here.