Nagarjuna on the Six Perfections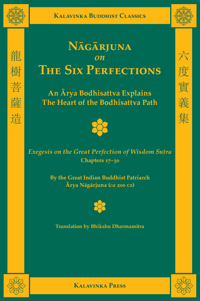 Nagarjuna on the Six Perfections
By Arya Nagarjuna
This is a translation of chapters 17-30 of Arya Nagarjuna's Exegesis on the Great Perfection of Wisdom Sutra, a free-standing section exclusively devoted to analyzing and explaining the bodhisattva's six perfections. Nagarjuna sets forth numerous stories, analogies, and analyses as he explores the deepest meaning of giving, moral virtue, patience, vigor, meditative discipline, and transcendent wisdom.
Translation by Bhikshu Dharmamitra. Includes facing-page source text in both traditional and simplified scripts as well as extensive text-structure outlining by the translator. (See the "Book Excerpt" links below for a complete description of the contents.)
820 pages, paper, 6" x 9"
ISBN: 978-1-935413-04-2
$27.95
Preview the Book via PDF Excerpts: Contents, Outline, Introduction; All of Chapter 24, Part of Chapter 25
Purchase the book:
From Amazon.com : (Click here to go to this book's page on Amazon.com.)
From Barnes & Noble.com : (Click here to go to this book's page on Barnes and Noble.com.)
Or consider making a small donation and then download the complete comment-enabled pdf ebook:
If you like, make a small donation ($5?, $10?) by clicking this "Donate" button and choosing Paypal's "other amount" option. Then download the complete pdf ebook By Clicking Here.