A Strand of Dharma Jewels
Nagarjuna's Ratnavali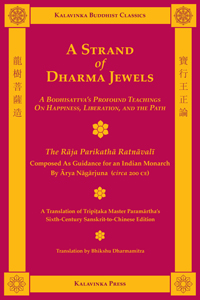 A Strand of Dharma Jewels
The Earliest Edition of Nagarjuna's Ratnavali
By Arya Nagarjuna
This is Tripitaka Master Paramartha's earliest (ca 550 ce) complete edition of Nagarjuna's Ratnavali. In it, Nagarjuna presents both abstruse teachings and practical advice to lay and monastic practitioners while also describing in considerable detail the terrains of the Bodhisattva Path. This very early edition is particularly useful in shedding light on difficult passages in the much-later Tibetan "revised translation" edition, the only other complete edition of this work.
Translation by Bhikshu Dharmamitra. Includes facing-page source text in both traditional and simplified scripts.
(See the "Book Excerpt" links below for a complete description of the contents.)
240 pages, paper, 6" x 9"
ISBN: 978-1-935413-05-9
$14.95
Preview the Book via PDF Excerpts: Contents, Outline, Introduction; Chapter 1: On Gaining Happiness & Liberation
Purchase the book:
From Amazon.com : (Click here to go to this book's page on Amazon.com.)
From Barnes & Noble.com : (Click here to go to this book's page on Barnes and Noble.com.)
Or consider making a small donation and then download the complete comment-enabled pdf ebook:
If you like, make a small donation ($5?, $10?) by clicking this "Donate" button and choosing Paypal's "other amount" option. Then download the complete pdf ebook By Clicking Here.