The Essentials of Buddhist Meditation
The Essentials for Practicing Calming-and-Insight & Dhyana Meditation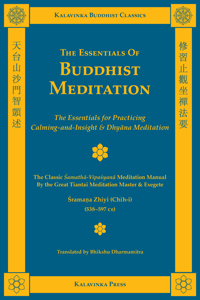 The Essentials of Buddhist Meditation
By Shramana Zhiyi (Chih-i) - (538-597 ce)
Master Zhiyi is the Tiantai Mountain meditation master, exegete, and teachings-school founder. His Essentials for Practicing Calming-and-Insight and Dhyana Meditation is a calming-and-insight (samatha-vipasyana) meditation manual deeply rooted in the early Indian Buddhist meditation tradition. It offers probably what is the most reliable, comprehensive, and practically-useful Buddhist meditation instruction currently available in English.
Translation by Bhikshu Dharmamitra. Includes facing-page source text in both traditional and simplified scripts.
(See the "Book Excerpt" links below for a complete description of the contents.)
236 pages, paper, 6" x 9"
ISBN 978-1-935413-00-4
$14.95
Preview the Book via PDF Excerpts: Contents, Outline, Introduction; The Traditional Prefaces & Two Chapters
Purchase the book:
From Amazon.com : (Click here to go to this book's page on Amazon.com.)
From Barnes & Noble.com : (Click here to go to this book's page on Barnes and Noble.com.)
Or consider making a small donation and then download the complete comment-enabled pdf ebook:
If you like, make a small donation ($5?, $10?) by clicking this "Donate" button and choosing Paypal's "other amount" option. Then download the complete pdf ebook By Clicking Here.