Kalavinka Buddhist Classics
---
New ! See Directly Below for: New !
A Complete Translation of the Avataṃsaka Sutra !!!
New ! (10/01/2022)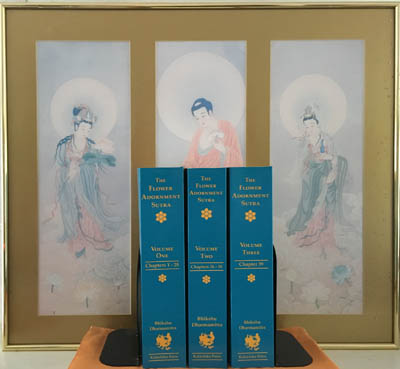 The Flower Adornment Sutra
An Annotated Translation of the Avataṃsaka Sutra
With a Commentarial Synopsis of the Flower Adornment Sutra
(In Three Volumes, 2,500 pages.)
"The Flower Adornment Sutra" is the first and so far only complete English translation of any edition of the Avataṃsaka Sutra, the very long collection of bodhisattva path teachings considered to be so complete that it was otherwise traditionally referred to as "the Bodhisattva Canon." Bhikshu Dharmamitra has translated it from Tripitaka Master Śikṣānanda's 80-fascicle circa 699 ce Chinese rendering of the Sanskrit Mahāvaipulya Buddha Avataṃsaka Sūtra (T0279: 大方廣佛華嚴經). This most complete Tang Dynasty edition of the sutra consists of 39 chapters to which Dharmamitra has added the traditionally appended conclusion to Chapter 39, "The Conduct and Vows of Samantabhadra" that was only finally translated into Chinese a century later (798 ce) by Tripitaka Master Prajñā.
The scenarious that unfold across the course of these 39 chapters introduce an interpenetrating, infinitely expansive, and majestically grand multiverse of countless buddha worlds extending throughout all three periods of time and all dimensions of space, revealing as it does so a cosmos in which all phenomena are visible in any given phenomenon and any given phenomenon is visible in all phenomena, more or less analogous to the vision of the cosmos inferred by the revelations of modern physics in its descriptions of quantum entanglement and quantum non-locality. Meanwhile, the text proceeds to reveal and explain in great detail and with countless cases the cultivation of the bodhisattva path to buddhahood, most notably the ten highest levels of bodhisattva practice known as "the ten bodhisattva grounds."
To aid deeper understanding of the sutra and to clarify the rationale for emendations based on variant readings in different Chinese editions, Bhikshu Dharmamitra has included 1200 endnotes while also appending his "A Commentarial Synopsis of the Flower Adornment Sutra" which serves to assist the student in easily reviewing the content and meaning of each of the forty chapters, some of which run in length to hundreds of pages or even, as in the case of the final chapter, seven hundred pages. Other important and useful sections include a relatively brief introduction, a list of abbreviations, and a glossary of the standard Buddhist technical terminology used throughout all three volumes.